The crescendo of crocus and dawning of daffodils tell us that our landscapes and nursery fields will soon light up with the bright colors of our many flowering trees. Spring is running late here, but the bright, sulfur-yellow blooms of Cornelian Cherry dogwoods are popping, trailed by the early-flowering plums and cherries, and the subtle flowers of red maples. Next up are the white blooms of serviceberry and flowering pears – soon to be followed by a rainbow of color provided by magnolias, redbuds, crabapples, and more. Later on, Japanese Tree Lilacs, Stewartia, Snowbells, Northern Catalpa and others will take center stage. It's a long-lasting spring parade of beautiful bright colors – too many to name.
So much beauty on the way that it's hard to decide which to feature. The six shared below are available in a good assortment of container sizes for garden center sales this spring, and plenty of bare root for customers planting for future sales.
Autumn Brilliance® Serviceberry
Amelanchier x grandiflora 'Autumn Brilliance'
Branches billow with fluffy, snow-white flowers when this naturally occurring hybrid of two native species bursts into bloom. These are soon followed by dark green summer foliage that glows bright red orange in the fall. Purplish-blue fruits are tasty and can be made into jams and syrups – if they can be harvested before the birds gobble them down!
Introduced in 1986 by plantsman Willett Wandell, it is our top-selling Serviceberry and likely the most widely specified and planted of the species. A hybrid of two North American native species, A. arborea and A. laevis,  it is broadly adaptable to varied soils and growing conditions. Hardy through Zone 4. Tree forms are available as are multi-stem forms that lend an informal, naturalized look to landscapes and woodland edges.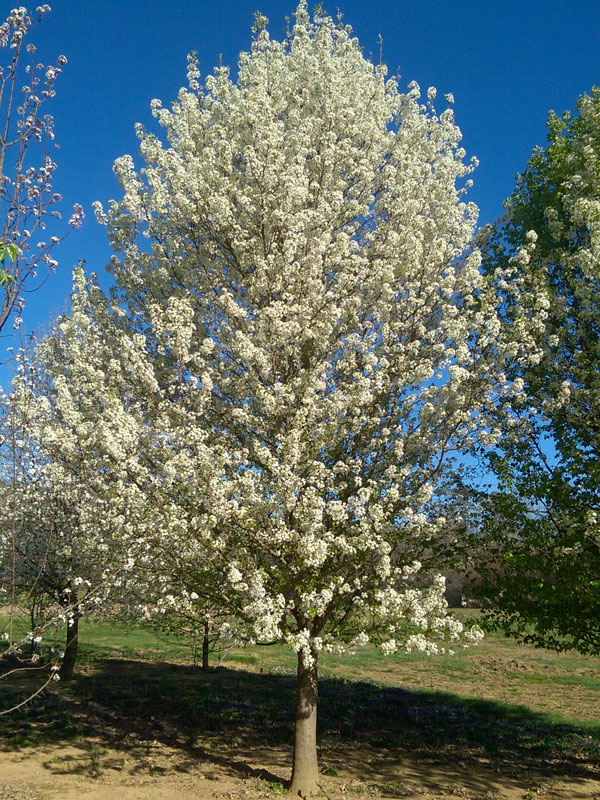 Pyrus x triploida 'NCPX2′ PP 30788
Prolific white blooms of spring are followed by foliage that emerges bright green and becomes dark green as it matures. Fall color is a kaleidoscopic medley of red, orange, yellow and purple colors. Developed by Dr. Tom Ranney of North Carolina State University, it delivers the beauty and durability of flowering pears without its negative characteristics.
Broadly pyramidal in form, Chastity® Pear matures to an upright oval shape with sturdy branches and a dominant central leader as it reaches a height and spread of approximately 35 'x 25'. Poised to replace other flowering pears in areas where invasiveness is a concern, this fireblight-resistant hybrid is a highly infertile, induced triploid hybrid, specifically bred to prevent weediness. It performs well through USDA Hardiness Zone 5.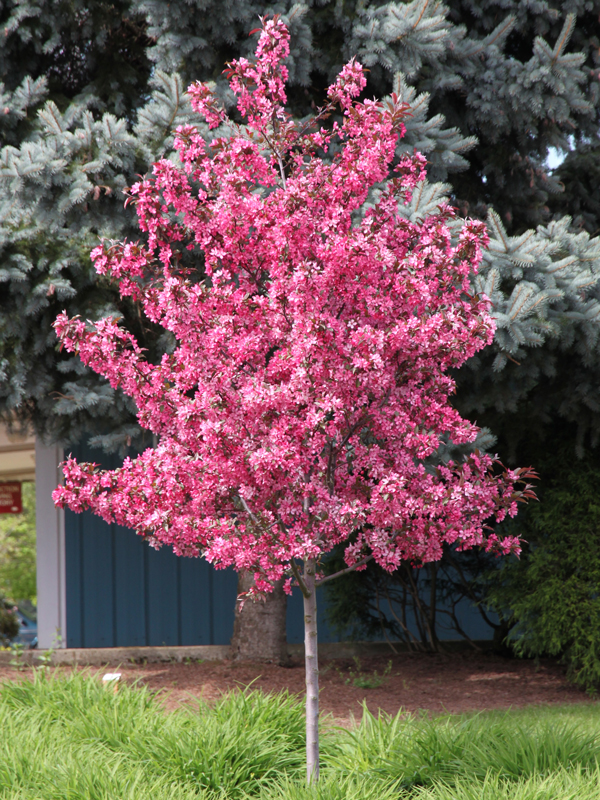 Royal Raindrops® Crabapple
Eye-popping magenta pink blooms of spring, cutleaf purple foliage and bright fall fruits recommend this unique crabapple as a top choice among flowering trees. Bright pinkish red blooms are followed by purple-tinted leaves that intensify to purple and become deeply lobed as they mature. Their purple color holds well through the summer and into fall, when its long-lasting fruit takes center stage. Not to be outshone by other purple-foliaged crabapples, Royal Raindrops® sports a medley of bronze-red, purple, orange, gold and yellow tones in autumn. Its tiny, bright red, persistent fruits sparkle with winter frost and appear to be favored by birds over larger-fruited cultivars.
Introduced in 2003, Royal Raindrops® soon became our best-selling ornamental crabapple. This remarkable garden tree proved to be widely adaptable and was quickly embraced by the U.S. and Canadian nursery industries. It has recently become available from select nurseries in the European Union that we have licensed to grow and sell this internationally popular tree.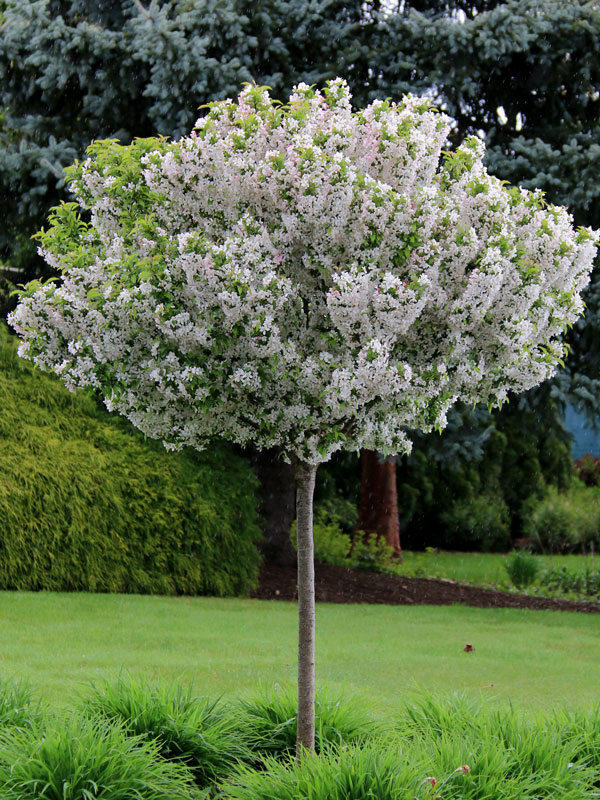 Sparkling Sprite® Crabapple
Malus 'JFS-KW207' PP 27954
Pink buds open to fragrant, pink-tinged white flowers that smother its densely branched, rounded head. Genetically destined to be a topiary tree, Sparkling Sprite® Crabapple attains a perfectly symmetrical, rounded head with little to no pruning. Perfectly suited for patio, terrace or container culture, the summer foliage of this petite top-grafted tree is especially clean, bright green and disease resistant.
The four-season show of color, texture, fruit and flower goes on well into winter, when an abundant crop of tiny persistent fruits turns from golden yellow to orange and attracts birds to the garden. Wintertime bonus – the tightly tailored, dense and perfectly rounded shape of this handsome tree looks like a gigantic snowball when cloaked in snow, and provides a great framework for hanging festive holiday lights.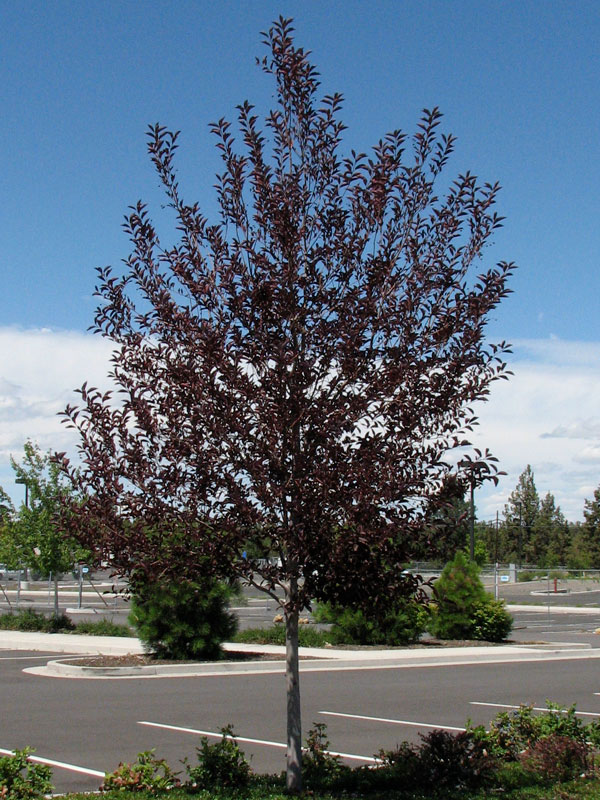 Prunus virginiana 'Canada Red'
Here's a tree that's a bit of a chameleon, sporting foliage that changes colors to suit the seasons. Leaves emerge green before maturing to deep purple in summer. New growth emerging through the summer creates a two-tone effect as the green leaves unfurl against a background of mature purple leaves. Summer foliage intensifies to reddish purple in the fall.
A small tree that grows to a height and spread of approximately 25' x 20', it greets spring with small white flowers borne in long clusters. Flowers mature into small purple fruits that attract birds. This very cold hardy North American native tree performs well even in USDA Zone 2. Its heat and drought tolerance and adaptability to poor soils make it an urban survivor that thrives in paved surroundings such as this high desert parking lot in Redmond, Oregon.
Ivory Silk® Japanese Tree Lilac
Syringa reticulata 'Ivory Silk'
Frothy white flower plumes of late spring come to mind when one mentions Ivory Silk® Tree Lilac. While its blooms take center stage at a time when few other trees are in bloom, this unique flowering tree demands a curtain call in autumn when its rich, golden-bronze leaves stage a command performance. Once the leaves have fallen, the shiny brown bark of the trunks is revealed. A field of dormant trees is impressive to see, and even more remarkable when being harvested by our crews as shown in this video on our YouTube channel.
Adaptability to urban growing conditions, small stature and an upright spreading vase shape have earned this tough little tree a place on our UtiliTrees® list. Mature height and spread of this USDA Zone 4 tree are 20' x 15'.