The bright colors of autumn are beautiful yet fleeting. We're always sad to see the leaves drop, but their demise brings the sparkling fruits of flowering crabapples to center stage. Long after autumn leaves have fallen, this tough, hardy and adaptable species delivers seasonal interest to landscapes while providing food and shelter for birds and other wildlife. Colorful, long-lasting fruits take the seasonal show into the winter months, when some fruits are quickly gobbled down by hungry birds and others persist until spring buds begin to push.
Ornamental crabapples are sparkling jewels of the winter landscape. Draping their sturdy branches with holiday lights brightens dreary winter nights and accentuates their bright colors, ranging from red and maroon to warm tones of yellow and orange.
Thanks to a variety of reasons, ornamental crabapples are enjoying a renaissance in popularity. Over the past half-century, plant breeders have developed improved cultivars that have largely eliminated the foliage diseases and large, messy fruits that had tarnished the reputation of this lovely family of garden trees. Modern cultivars such as those described on our Crabapple Information Chart offer excellent disease resistance, adaptability to varied climates, wet or dry soils, and other challenging growing conditions. In springtime, these pollinator favorites are abuzz with honeybees, native bees and the occasional speedy hummingbird. Some of our favorites are described below.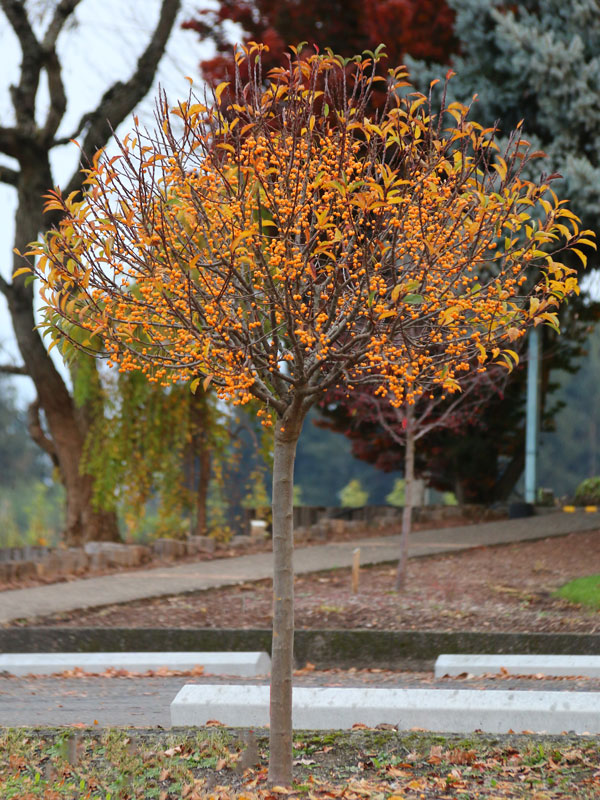 Sparkling Sprite® Crabapple
Malus 'JFS-KW207' PP 27954
This petite beauty is a showstopper in late fall and winter, when an abundant crop of tiny persistent fruits turns from golden yellow to orange and attracts birds to the garden. Wintertime bonus – its tightly tailored, dense and perfectly rounded shape looks like a gigantic snowball when cloaked in snow, and provides a formal framework for hanging festive holiday lights.
In spring, pink buds open to fragrant, pink-tinged white flowers that smother its densely branched, rounded head. Genetically destined to be a topiary tree, Sparkling Sprite® Crabapple attains a perfectly symmetrical, rounded head with little to no pruning. Perfectly suited for patio, terrace or container culture, the summer foliage of this petite top-grafted tree is especially clean, bright green and disease resistant.
Royal Raindrops® Crabapple
Tiny, bright red, persistent fruits sparkle with winter frost and bring winter interest to the garden. Their beauty is fleeting, as they appear to be favored by birds over larger-fruited cultivars.
Springtime brings eye-popping magenta pink blooms to the landscape, followed by purple-tinted leaves that intensify to purple and become deeply lobed as they mature. Their purple color holds well through the summer and into fall, when its colorful fruit takes center stage. Not to be outshone by other purple-foliaged crabapples, Royal Raindrops® sports a medley of bronze-red, purple, orange, gold and yellow tones in autumn.
Introduced in 2003, Royal Raindrops® quickly became our best-selling ornamental crabapple. This remarkable garden tree proved to be widely adaptable and was embraced by gardeners across the U.S. and Canada. It has recently become available from select nurseries in the European Union that we've licensed to grow and sell this internationally popular tree.
Golden Raindrops® Crabapple
Cedar waxwings and robins flock to the mature tree in our office landscape, a favorite dining spot among the many ornamental crabapples growing at our farm. Even after gorging themselves over a period of several days, there are plenty of tiny, sparkling yellow fruits for earthbound humans to enjoy. If the birds don't return, the tiny, ¼" fruits will persist for another month, turning from bright yellow to mellow orange-yellow as the weeks go by.
Elegant and unique among the flowering crabapples, its strong and slender, upright-growing branches are smothered with masses of delicate, long-lasting, fragrant, star-like white flowers in spring. Blooms are followed by deeply lobed, disease-resistant, deep green foliage that turns golden-yellow in autumn. USDA Zone 3 hardiness recommends it for cold climates.
Sparkling red fruits are among the brightest, most profuse and most persistent of any crabapple. In mild winter areas, trees sparkle with bright red fruits for almost half the year, radiating beauty as they provide food for hungry birds. Fruits not eaten last until spring when these four-season beauties burst into bloom with masses of bright white flowers.
These are followed by bright green spring foliage which darkens in summer to a rich green. This cultivar is upright growing and somewhat pyramidal in shape, earning it a place on our UtiliTrees™ list. Upright and pyramidal in shape, this cultivar grows to a height of about 15 feet and a spread of about 12 feet.
 A tree for all seasons, this enduring favorite among the flowering crabapples delivers an abundance of tiny maroon fruits that delight gardeners and provide food for hungry birds. Purple Prince kicks off the growing season with rosy red blooms that that are welcomed by people and pollinators. As the flowers fade, leaves emerge in spring with a rich purple tint that warms to regal bronze green in summer. Easy to misidentify as Prairifire, it tends to have better scab resistance and a faster growth rate. Excellent resistance to Scab and Cedar-Apple Rust, and good resistance to Mildew and Fireblight, are also reasons to choose this royal performer.
Imagine a flowering crabapple with bright red fall color and chances are you'll say there's no such thing. But wait! This purple-leaf crabapple typically flaunts purple to bright red tones in autumn, with touches of yellow and orange adding to the colorful display. Autumn leaves give way to purple-red, ½" fruits that persist through much of the winter in mild winter areas.
Deep pink blooms set the spring stage for dark purple foliage that crowns the perfectly rounded canopy of this attractive tree that matures to a height and spread of about 20' x 20'. Very cold hardy, this crab is a proven performer in Northern and intermountain regions.
Gardeners! Please note that our nursery is strictly wholesale. To purchase these and other trees grown by our nursery, please use our Retailer Locator to find sources of JFS trees near you.