Autumn puts those who love fall color into visual overload. Day by day, the rows of trees growing in our bare root fields and container yard morph from shades of green, red and purple to the kaleidoscopic colors of autumn. As the day shorten and frosty nights signal the onset of winter, rows of bright red, burgundy, orange, yellow, scarlet and deep purples are laced together with a rainbow of colors in between.
We enjoy the fall color parade while we can because the leaves are falling and digging season is underway. Already, our crews are digging, grading and storing bareroot trees in the sawdust and in our coolers, preparing them for shipping to our customers in early 2024. Fall rains have moistened the soil sufficiently for our B&B crews to being digging, too.
JFS staffers pause from their harvest prep to share some of their fall color favorites. Several are featured on our newest episode of JFS TreeTV, in which Jessica Hutchings (Inside Sales) and Jeff Lafrenz (Marketing Director) take you on a fall color tour of our container yard.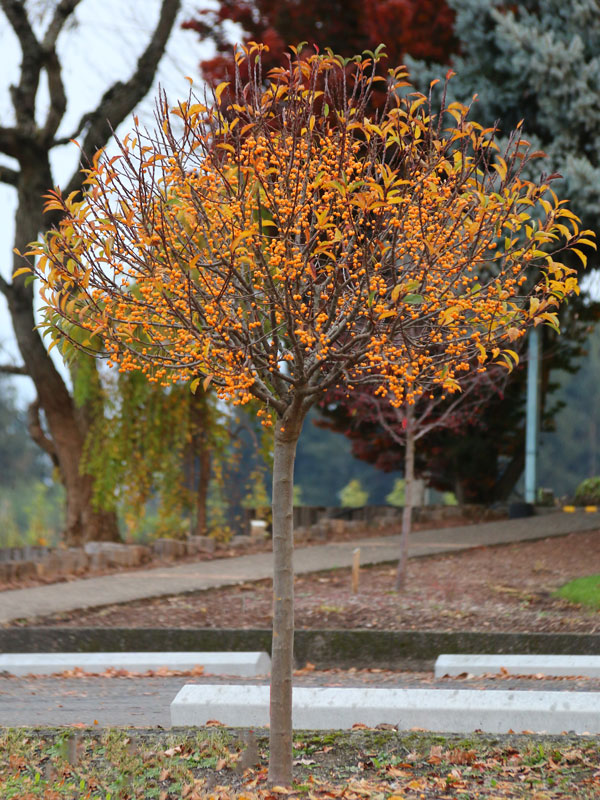 Sparkling Sprite® Crabapple
Malus 'JFS-KW207' PP27954
Exceptionally clean, bright green foliage of summer turns to bright yellow in autumn, delivering golden tones that complement the season's hot oranges and reds. For fall and winter interest, it's a favorite of Brian Mumm, Inside Sales Representative.
"Long after Sparkling Sprite® Crabapple's golden fall foliage has faded from memory, this compact gem will still be drawing attention," he said. "This little tree is loaded with clusters of bright yellow fruits that mature from golden yellow to orange as they persist well into winter, adding that the fruits are beautiful to look at, and are eventually eaten by birds that appreciate the winter treats.
"In spring, Sparkling Sprite® is blanketed in pink buds that open to long lasting, fragrant white blooms that are a magnet for pollinators." Perfectly suited for patio, terrace or container culture, the topiary-like, perfectly rounded head of this top-grafted tree lends a formal appearance to any landscape.
"It's perfect for small spaces in need of big impact!" Brian said.
A wintertime bonus: The tightly tailored, dense and perfectly rounded canopy of this handsome tree looks like a gigantic snowball when cloaked in snow, and provides a great framework for hanging festive holiday lights.
Acer circinatum 'Pacific Fire'
It's safe to say that tree bark rarely outshines fall foliage, until you cross paths with Pacific Fire Maple. And when you do, it's sure to stop you in your tracks.
"Glowing red stems of this unique cultivar of our Pacific Northwest native vine maple brighten the dreariest of December days," declares Brian Mumm, JFS Inside Sales Representative. Its young branches turn brilliant red in autumn, just in time to light the winter landscape on fire.
"The cold gray days of winter, when all the garden's dormant, make me long for some color in the landscape," he said. "And I'm not talking anything subtle. I want big, bold, in your face COLOR!
"Pacific Fire vine maple delivers that boldness with vibrant coral bark that refuses to be ignored," Brian continued. Multi-stemmed, upright and spreading, its medium green leaves of summer turn to orange yellow in autumn. Red winged samaras add sparkle to the autumn scene.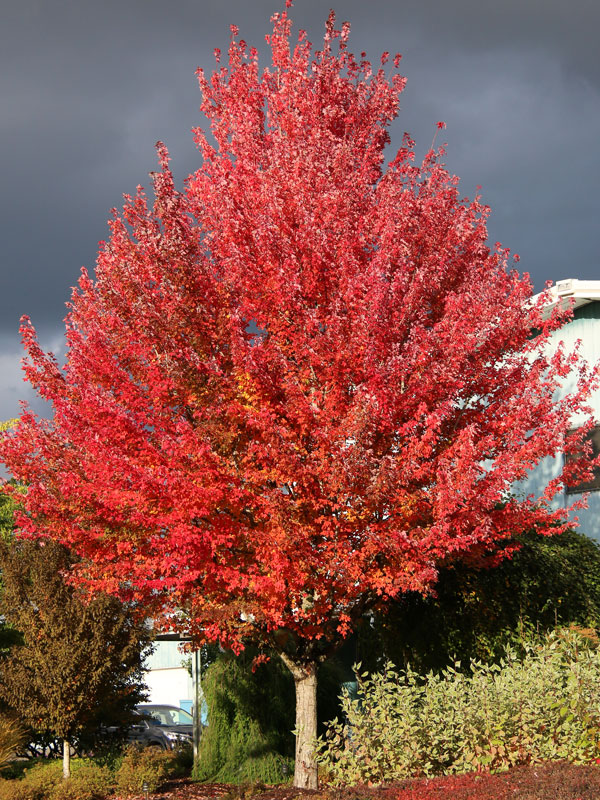 Acer rubrum 'Frank Jr.' PP 16769
Boom! Fall foliage this bright is a sight to behold. The brilliant red color of this exceptional red maple is at its best this time of year.
A superior selection of the widely planted native species, Redpointe® Maple is distinctive for its rich, dark green, heat-tolerant summer foliage that turns to brilliant red in autumn. Its upright, broadly pyramidal form and adaptability to urban growing conditions make it a natural choice for street tree plantings and cityscapes.
Ease of care in the nursery and in the landscape, plus tolerance of heat, cold, drought and varied soils (including those of higher pH levels) have helped it to become our best-selling tree since its introduction in 2006. Thanks to its adaptability and superior performance, it now serves as "an ambassador of autumn' as its brilliant red fall foliage brightens landscapes across the US and Canada and as far afield as Australia and the European Union.
Autumn Brilliance® Serviceberry
Amelanchier x grandiflora 'Autumn Brilliance'
Now here's a plant that lives up to its name! The orange-red glow cast by the block of young trees in our container yard is so bright that you'll want to pull out your sunglasses! Laden with lush green foliage in our TreeTV video, the leaves have amped up the color as our fall weather settles in.
In spring, the branches of this popular Serviceberry billow with fluffy, snow-white flowers. These are soon followed by dark green summer foliage and purplish-blue fruits. They're very tasty and are prized for making jams, syrups and desserts – if they can be harvested before the birds gobble them down!
A hybrid of two North American native species, A. arborea and A. laevis,  it is broadly adaptable to varied soils and growing conditions and hardy through USDA Zone 4. Tree forms are available as are the multi-stem forms pictured that lend an informal, naturalized look to landscapes and woodland edges.
Royal Raindrops® Crabapple
Eye-popping magenta pink blooms of spring, cutleaf purple foliage and bright fall fruits recommend this unique crabapple as a top choice among flowering trees. Bright pinkish red blooms are followed by purple-tinted leaves that intensify to purple and become deeply lobed as they mature. Their purple color holds well through the summer and into fall, when its long-lasting fruit takes center stage. Not to be outshone by other purple-foliaged crabapples, Royal Raindrops® sports a medley of bronze-red, purple, orange, gold and yellow tones in autumn. Its tiny, bright red, persistent fruits sparkle with winter frost and appear to be favored by birds over larger-fruited cultivars.
Introduced in 2003, Royal Raindrops® soon became our best-selling ornamental crabapple. This remarkable garden tree proved to be widely adaptable and was quickly embraced by the U.S. and Canadian nursery industries. It has recently become available from select nurseries in the European Union that we have licensed to grow and sell this internationally popular tree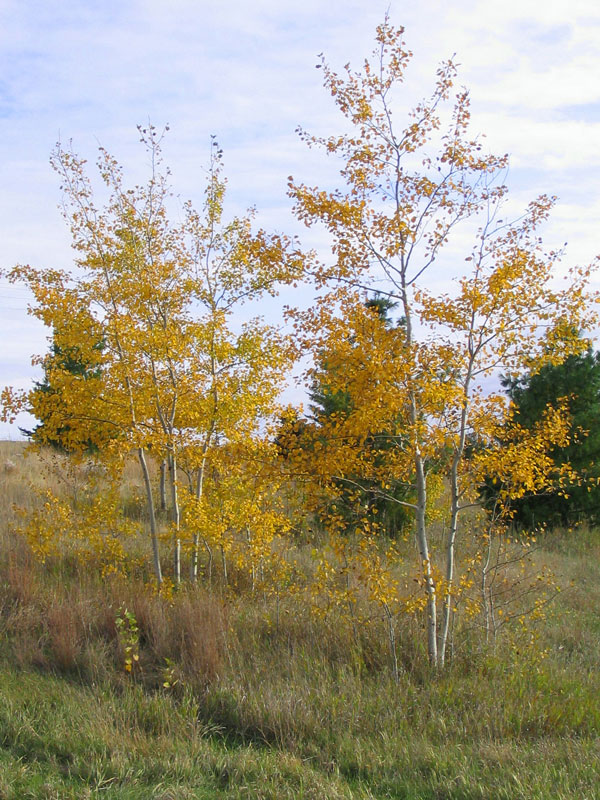 Populus tremuloides 'NE-Arb'
The fluttery leaves of Prairie Gold® Aspen are among the first to flaunt their fall colors in autumn as they turn from green to golden yellow. Discovered on the Midwestern prairie, this Nebraska native brings lowland adaptability and disease tolerance to a high elevation favorite. Introduced in cooperation with the Nebraska Statewide Arboretum, its adaptability to the heat, drought and humidity of the Midwest greatly expands the planting range of this popular species that is typically more at home in the mountains than in lower elevation landscapes. Hardy through USDA Zone 4, it grows to a height and spread of about 40' x 15'. It is currently available in single and multi-trunk forms.