The Eternal Appeal of Oaks is the top feature in April's Tree Issue of Digger Magazine. Our own faith in the eternal appeal of oaks leads us to grow and offer one of the widest arrays of oak species and cultivars in the country. It's also the reason why Guy Meacham, JFS New Plant Development Manager, was interviewed about our oak selection and hybridization efforts.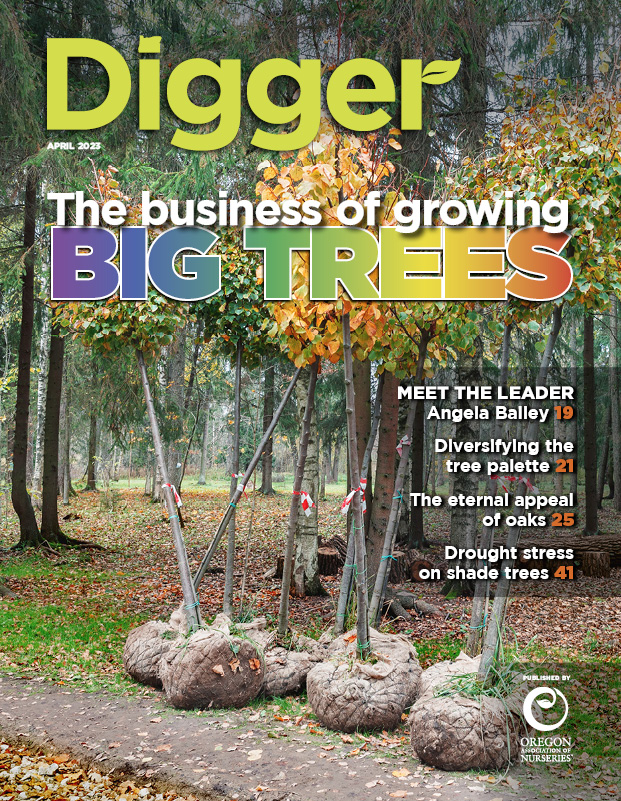 "Oaks are very promiscuous, " he said. "There are thousands of  oak hybrids from species from different parts of the world that hybridize together, and you get very good plants from those. Even though you're starting with parents from different parts of the world, they often bring the best character of both."
Guy mentioned our 30+-years effort to develop outstanding urban trees by hybridizing Europe's English Oak (Q. robur) and North America's White Oak (Q. alba). These include the very successful cultivars Crimson Spire™ Oak, Streetspire® Oak and Skinny Genes® Oak. In a nod to their intercontinental origin, hybrids of these two species are now recognized as Quercus x bimundorum (meaning "two worlds") as noted in our catalogs.
Future breeding efforts, Guy continued, include "looking for tougher oaks that don't require as much water and have good ornamental qualities."
Our oak offerings demonstrate our nursery's determination to offer a diverse palette of species and cultivars across our entire product line. Among the oaks, we offer 17 species and 12 cultivars of oaks that are purchased by our wholesale customers throughout the United States and Canada.
Additional oaks and several other JFS introductions are featured in a second article in the Digger Tree Issue: Diversifying the Tree Palette. Don't miss it!
For a deeper dive into the world of oaks, check out the July/August 2022 issue of American Gardener, where authors Tim Boland and Matt Lobdell recommend Oaks for Everyone.
Quercus frainetto 'Schmidt'
We introduced this drought resistant and adaptable selection of Hungarian Oak in 1987. Tough as well as beautiful, it has proven to be an excellent street and shade tree. Of Mediterranean origin, it thrives in the maritime West Coast climate characterized by wet winters and springs and hot, dry summers. Its deeply lobed dark green leaves are very glossy and maintain a fresh, cool look through the heat of summer. Fall color is tawny golden brown.
Vigorous and upright growing, with a strong central leader, it matures in a narrowly oval, upright shape to a height of approximately 50 feet and spread of 30 feet. Hardiness is Zone 5b.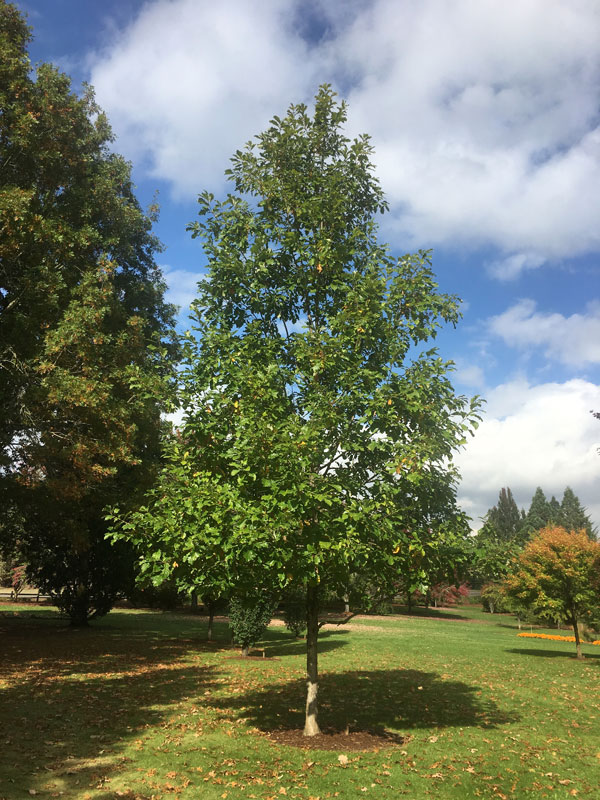 Quercus bicolor 'JFS-KW12'
Our selection of this tough and adaptable North American native oak is a favorite of growers who like its symmetrical, upright growth habit and ease of care. In addition to drought resistance and the ability to thrive in poorly drained sites, this fast-growing tree demonstrates good resistance to anthracnose and mildew. Its large, lustrous, deep green leaves are thick and glossy, with wavy margins. After turning buttery yellow in autumn, they turn to rich tawny brown and remain on the tree late into the season.
A vigorous grower, American Dream® Oak develops a broadly pyramidal canopy of good density as it reaches a mature height of approximately 45 feet and spread of 45 feet. Hardiness is USDA Zone 4. It is named a top pick among regional oaks in Oaks for Everyone, published in American Gardener magazine.
Quercus macrocarpa 'JFS-KW3' PP 22815
This is a bur oak like no other. The unusually narrow and upright form of this pyramidal to oval cultivar makes it a clear choice for landscape settings that call for a large shade tree with a slender profile.  Petite acorns, about ½" in diameter, are extremely small for a bur oak, adding to its suitability for landscape and street use. Handsome dark green, glossy foliage is resistant to both mildew and anthracnose. Attractive yellow fall color adds seasonal appeal to this heat and drought tolerant tree that is hardy through USDA Zone 3.
After 30 years in the landscape, the mature height of this unique selection of a widely adaptable North American native tree is approximately 55 feet, with a spread of only 25 feet.
Tolerant of urban air pollution and resistant to verticillium wilt, this fast-growing, broad headed tree performs well under varied growing conditions. It is a valuable oak for lawns, parks, golf courses, commercial areas, boulevards and other landscapes where a fast-maturing, durable and long-lived shade tree is needed. Its rich, dark green leaves turn to a dark red in autumn. Maturing to a height and spread of about 50' x 45', it is hardy through USDA Zone 4.
Cornell University's Woody Plants Database recommends it in their urban trees collection, noting that it is resistant to anthracnose, and also tolerates salty soil.
This large and impressive native tree is adaptable to many sites and varied growing conditions. Probably the hardiest of oaks, it tolerates city life and varied growing conditions including dry sandy soils, clay soils, and alkaline soils.
Similar to English Oak leaves near the petiole, leaves fan out at mid-leaf to what may be the biggest oak leaf of all. In summer, the dark green leaf surfaces contrast with the lighter undersides to create a shimmering effect. Fall color is yellow to yellow brown.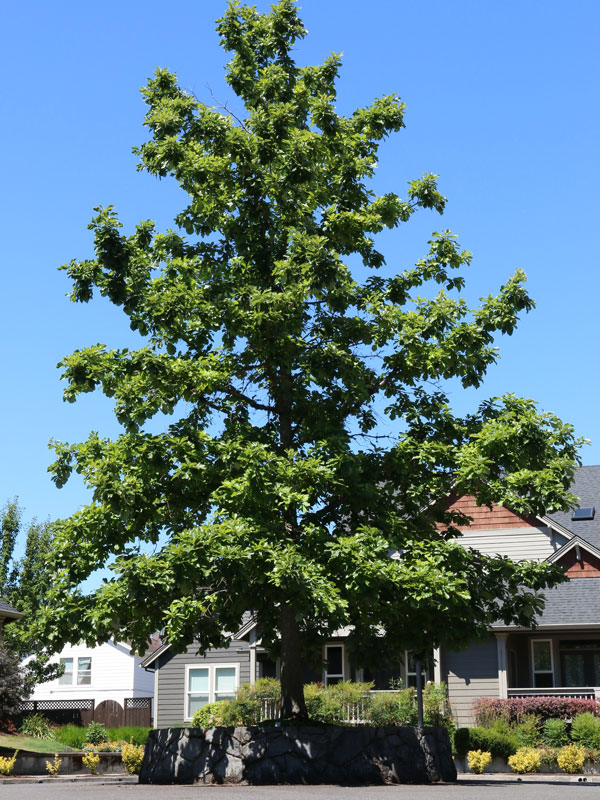 Don't be fooled by its name. While it is well adapted to poorly drained sites, this adaptable North American native species handles drought equally well. Though in the wild it is found most often in low lying, moist bottomlands, it performs well over a wide range of growing conditions. Its lustrous dark green leaves have wavy margins. Fall color ranges from yellow brown to reddish tones. Its canopy is rounded and open, with a mature height and spread of about 45 feet. (Zone 4).