If you're reeling from a cold spring and from snowstorms that seem never ending, we offer up snow of a different kind.  If you've had your fill of the cold, wet, freezing flakes that have been falling from the sky, we invite you to stock up on the fragrant, beautiful snowstorms of ornamental flowering crabapples
These superb crabapples offer a snowstorm of spring blooms that delight the senses and support pollinators. Flowering crabapples are proven favorites of bees, according to research supported by the Horticultural Research Institute. They're a great choice for landscapes with restricted growing spaces, performing well in parking strips, large containers and in challenging urban growing conditions. Fruits of late summer persist into the winter months and provide food for birds and other wildlife.
A very uniform and symmetrical crown makes Snowdrift Crabapple one of the most formal looking crabs. Snow-white flowers cloak its branches in spring before giving way to green, glossy foliage. Orange fruits of 3/8" diameter persist into the winter months. Resistance to Scab, Cedar-Apple Rust and Mildew are good to excellent, while Fireblight resistance is fair.
Golden Raindrops® Crabapple
Elegant and unique among the flowering crabapples, this late-season bloomer is a springtime showstopper. Masses of delicate, long-lasting, fragrant, star-like white flowers smother its strong and slender branches late in the crabapple bloom sequence timeline. Blooms are followed by deeply lobed, disease-resistant, deep green foliage that turns golden-yellow in autumn, often with red and orange highlights.
Clusters of tiny golden yellow fruits attract birds and persist into winter, when they sparkle like golden raindrops along its bare branches. Over the years, we've observed it to be one of the most popular crabapple fruit sources for foraging birds. Zone 3 hardiness recommends it for cold climates.
A top performer for more than a century, this 1905 introduction from Japan is considered by many crabapple experts to be a standard for comparison among white flowered crabapples. Blooming is profuse even on very young trees.
Known to some as Redbud Crabapple, its bright white flowers emerge from plump red buds in spring, giving way to clean green foliage throughout the summer months. Persistent red fruits cause it to stand out in the landscape throughout the fall and into winter. Excellent resistance to scab, cedar-apple rust and fireblight make it widely adaptable and a dependable performer in many climates.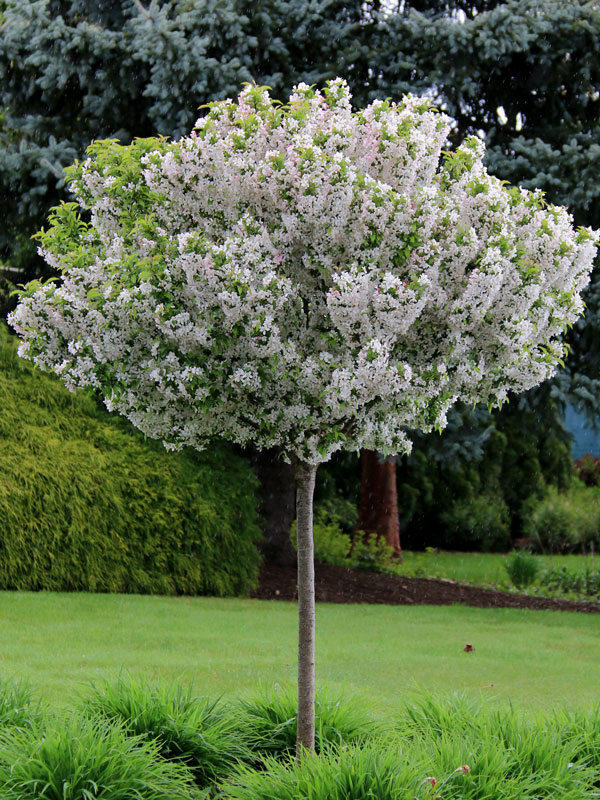 Sparkling Sprite® Crabapple
Malus 'JFS-KW207' PP 27954
Pink buds of Sparkling Sprite® Crabapple open to fragrant, pink-tinged white flowers that smother its densely branched, rounded head. Genetically destined to be a topiary tree, it attains a perfectly symmetrical, rounded head with little to no pruning.
Perfectly suited for patio, terrace or container culture, the summer foliage of this petite top-grafted tree is especially clean, bright green and disease resistant. The show goes on well into winter, when an abundant crop of tiny persistent fruits turns from golden yellow to orange and attract birds to the  garden.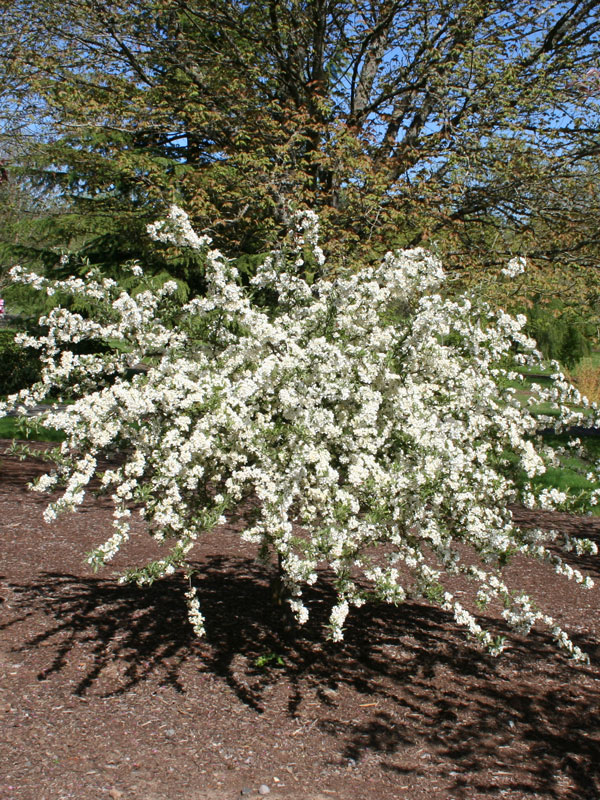 Perhaps the most petite of all crabapples, it is also among the latest to flower. Bright red buds open to single white blooms that are followed by small, green, exceptionally clean and disease resistant leaves. An autumn bonus is a hearty crop of bright red, 1/4-inch fruits that persist well into the winter months. Grown as a top graft, its small stature and a rounded, dense head plays well in landscapes where space is at a premium.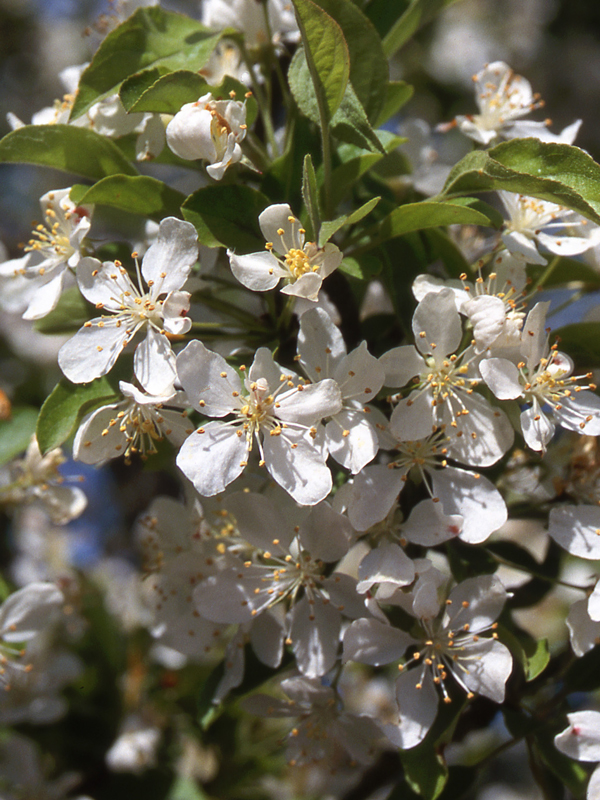 Sparkling red fruits are among the brightest, most profuse and most persistent of any crab. In mild winter areas, they last until spring when these hardworking trees burst into bloom with masses of bright white flowers.  Blooms are followed by bright green spring foliage which darkens in summer to a rich green. This cultivar is upright growing and somewhat pyramidal in shape, earning it a place on our UtiliTrees™ list.