Pollinator Week is coming!
Pollinator Week 2023 is less than a month away, June 19-25! Visit the Pollinator Partnership website to discover local events and activities that will feature pollinators during #PollinatorWeek.  If you're like millions of gardeners, you're probably on board with the international effort to protect and support pollinators. Why limit your pollinator gardening efforts to perennials, shrubs and seasonal color? By choosing and planting pollinator-friendly trees in your landscape, you can add thousands of tantalizing, pollinator-supporting blooms to your garden today and every year for decades to come.
Springtime is a great time to choose one or more pollinator-friendly trees for your garden or streetscape. Trees pictured below are among the pollinator magnets that we grow and sell to our garden center customers across the continent.  Enter your zip code to find a nearby source of pollinator-friendly trees. They're likely to have these and/or others in stock and ready for you to add to your pollinator-friendly landscape. Depending on your location, some are likely to be in bloom during Pollinator Week! Most of our featured trees are found on this list of Trees Bees Like Best. This handy guide to pollinator-pleasing trees and shrubs is based on research supported by the Horticultural Research Institute and AmericanHort, our national nursery association that's presenting three pollinator-focused webinars during Pollinator Week. (Plan ahead by registering for these free webinars today.)
Spearheaded by the Pollinator Partnership,  this year's Pollinator Week theme is "Pollinators and Climate Change." The website of this international collaborative (composed of scientists, researchers, conservationists, government officials and dedicated volunteers) offers many resources for use during Pollinator Week, including a downloadable logo, a pollinator toolkit, school garden kits, and a list of states that have issued proclamations encouraging the celebration and observation of Pollinator Week. Join the worldwide effort to protect pollinators and enhance the environment by planting a buzz-worthy tree, and use the hashtags #PollinatorWeek and #TreesAreTheAnswer to spread the word.
Golden Raindrops® Crabapple
Elegant and unique among the flowering crabapples, the slender, upright growing branches of this unique cultivar are smothered in springtime with masses of delicate, starlike white flowers. Stand beneath its canopy on a sunny spring day and be amazed by the collective buzz of bees that flock to its blooms in search of pollen. Flowers are followed by deeply lobed, fine textured foliage that turns golden yellow in autumn.
Abundant clusters of tiny golden yellow fruits complement its glossy green, disease-resistant leaves in late summer and sparkle like golden raindrops among the bare branches of early winter. Cedar waxwings, robins and other birds flock to its tasty, beak-size, 1/4" fruits. Zone 3 hardiness as well as good resistance to heat and drought extend the planting range of this fine ornamental tree.
Showy yellow flower panicles create a blaze of color in the late summer landscape. They're pleasing to the eye, and very attractive to pollinators, thanks to its summer blooms that appear long after the flowers of spring have faded away. This small tree is also a good choice for lawns, as it is deep rooted and casts relatively light shade. Hardy through Zone 5, Goldenrain Tree is adaptable to both acid and alkaline soil, and is tolerant of drought and air pollution.
Urban forest managers and landscape designers in search of small-stature, heat and drought tolerant, adaptable, resilient trees find it to be an excellent performer. It is also a member of a more unusual, underplanted Genus that is helpful in their efforts to meet species diversity goals.
Ivory Silk® Japanese Tree Lilac
Syringa reticulata 'Ivory Silk'
Frothy white flower plumes of late spring come to mind when one mentions Ivory Silk® Tree Lilac. Its profuse flower crop takes center stage at a time when few other trees are in bloom, making it very attractive to pollinators. This unique flowering tree demands a curtain call in autumn when its rich, golden-bronze leaves stage a command performance. Once the leaves have fallen, the shiny brown bark of the trunks is revealed and contributes winter interest to the landscape throughout the dormant season.
Adaptability to urban growing conditions, small stature and an upright spreading vase shape have earned this tough little tree a place on our UtiliTrees® list. Mature height and spread of this USDA Zone 4 tree are 20' x 15'.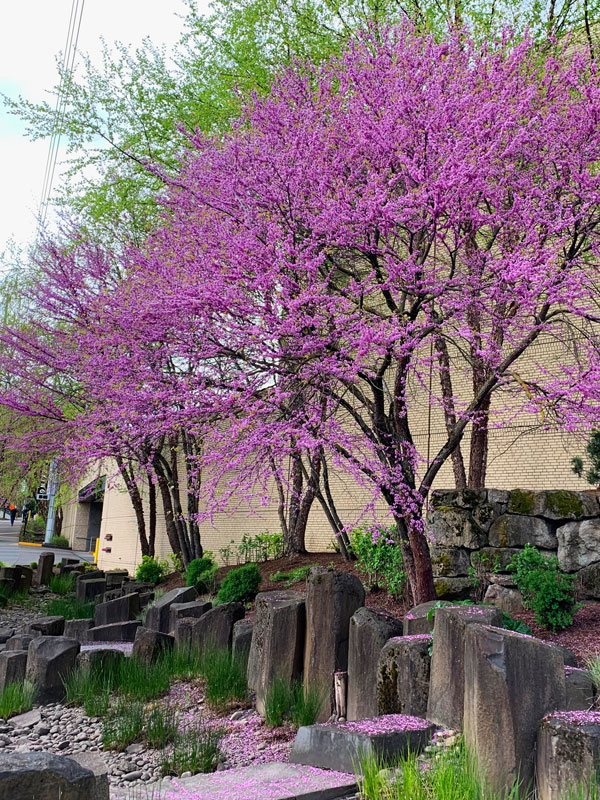 This springtime favorite is currently available grown in tree and multi-stem forms. The latter are a great choice for informal, naturalized plantings and in buffer zones between forest and meadow. In any form, their cheerful, bright rosy pink to magenta blooms, crowded along bare branches before the leaves emerge, are welcome signs of spring. And after the blooms are gone, what's not to love about their heart-shaped green leaves that turn to warm yellow in autumn?
Eastern Redbud is highly rated (four stars!) as a pollinator favorite in the University of Kentucky studies, as noted on thePlants Bees Like Best chart referenced in the article above. This popular North American native species is experiencing a "cultivar boom" of sorts, with exciting newcomers entering the marketplace. Several are currently available along with the seed-grown species. We offer a total of 15 cultivars in our 2023-2024 catalog.
Tilia cordata 'Greenspire'
Pollinators love this and other cultivars of Littleleaf Linden. They're also highly attracted to Redmond Linden and other Tilia americana cultivars. In early to mid-summer, step beneath the dense canopy of a Linden tree to enjoy cool shade and listen to the hum of hundreds of honeybees hard at work. Linden honey is a favorite sweet treat of honey aficionados.
The standard of comparison among the Lindens, this sturdy, reliable performer has a strong central leader, very uniform branch arrangement and a symmetrical, pyramidal form. Its symmetrical form lends this cultivar to marvelous alleés that soften the harsh landscapes of city streets. Its leafy canopy produces deep shade that helps to reduce air conditioning costs and urban heat island effect. It reaches about 40' in height with a spread of about 30'. Dark green foliage turns yellow in the fall.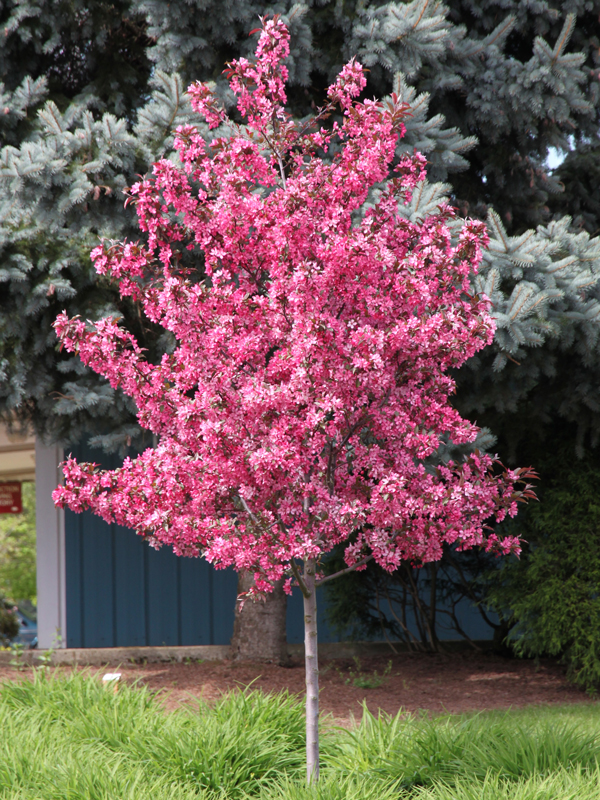 Royal Raindrops® Crabapple
Bright pinkish red blooms take center stage in spring, making a bright floral display that's pleasing to pollinators and people. Blooms are soon followed by purple-tinted leaves that deepen to purple and become deeply lobed as they mature. The unique leaf shape is inherited from its fruit parent, Golden Raindrops® Crab. Its purple color holds well through the summer and into autumn. In autumn, the cutleaf foliage turns to orange red, in bright contrast to its tiny, bright red, persistent fruits.
Upright, spreading form and dense branching habit, plus good to excellent resistance to scab, cedar-apple rust and fireblight are among the many attributes of what has become our best-selling crabapple. Quickly accepted in the trade, it soon became our best-selling crabapple and became widely recognized for its outstanding performance. Based on its outstanding quality and dependable performance for the lower Midwest, it was named a Plant of Merit in 2013 by the Missouri Botanical Garden.